Shit! I have only one new hack that would make such a mess.
I have to contact MadCat.
Well, I already mentioned this issue a couple of times, in case you didn't notice.

Note: To fix cluttered Sim menu (like new AL kiss or Vamprocillin-D on Gypsy), I had to make overrides for PersonGlobals text strings. Chances are that it may conflict with other hacks (like InTeen) which also alter these resources.

HCDU shows 2 conflicts between this fix and the Inteenimater B Package , would that be a problem??

Inteen modifies the same PersonGlobal text string as this fix. If you can't part with InTeen, make sure that InTeen loads
after
this fix. You'll lose corrections for Sim interactions (like Dance or Buy Potion) though.
Personally I don't Kill Kittens, but it would be nice if MadCat includes fixed PersonGlobal stringset in the new version of InTeen. I only fixed it in the EAxian way it was supposed to be. The only exception is Sim menu for dances. "Dance Together" "Slow Dance" and "Dance.../Classic" are now found under "Dance.../".
@Timoram: For Food strings, original EAxian strings should be honoured, however awkward they may be. The key is
consistency
. If I arbitrarily change them as I see fit, fridge menu will be hopelessly cluttered when you have custom food.
1. "Servir le déjeuner.../Soupe "Le potager de Mamie" and "Servir déjeuner.../(any other group meal)" should be merge into "Servir le déjeuner.../(name of the group meal)"
I'm going to move Grandma's Comfort Soup under "Servir déjeuner...", rather than to move all the other foods under "Servir
le
déjeuner...".
2. "Prendre.../Omelettes" doesn't have sense, because it means "take a meal already cooked" ("Omelettes" needs to except if the meal is already cooked and ready to be eaten. The "Get" fonction should be only available for these meals (that doesn't need to be cook) : "Gelée" and "Repas instantané", and also FT plates that only appear with a minimum hobby enthousiasm for Cooking. I think the "Get" interaction should be "Prendre.../Repas de groupe.../(name of the group meal)" or "Prendre.../Plat individuel.../(name of the single meal)".
"Get" function is not what you think. Observe: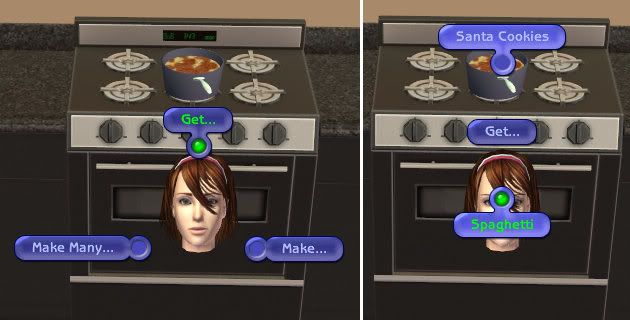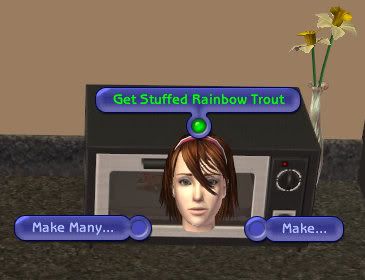 Both "Get" and "Make..." use "Préparer". Except for OFB desserts, which use "Prendre". Unless "Prendre" is something really unacceptable, I'm going to stick to existing EAxian strings for consistency, rather than to introduce a whole new verb.
3. I think fridge interactions are too much complicate.
<French Teal Deer snipped>
This mod is mainly for correcting mistakes, not for drastically changing EAxian way as you see fit.
Also, I think you should merge "Servir une assiette.../(name of the meal)",
This is a FT-exclusive function, so it should be left untouched.
I'm not going to include CS fix in this mod. Contact the makers of CS conversions.
Had a reading comprehension fail moment, now I understand what you meant. I never used CS potion before, I'll have a look at it.
I all... i'm spanish and my english is terrible but i want made a request...
http://valdea.com/
All the things they do are for english users only, i'm having problems to understand all the interactions with the npc's that they offer...

Lolwut? Why should I support someone else's payshit? And what does dollhouse have anything to do with pie menu fix? This is NOT a request forum, in case you didn't notice.