Hard Luck Sims
---
Meadow Lawns
A whole new neigbourhood to play with if you have Open for Business! Download now. (106MB file - may take a while!)
Three linked islands each with its own character. The first island is full of small weatherboard houses nestled together, many unoccupied. Elders live out their entire their lives here hoping for better gardens and fishing. Houses are cheap, so young sims sometimes move in to get a start in life. The big island is swampland ripe for development, The army is setting up a "secret" base there and local entrepreneurs are buying up the land and cashing in on the boom. Living on the "other" island is the goal of all rich sims; thats where the big houses are and a few businesses catering for the rich.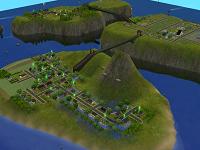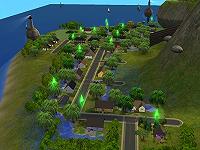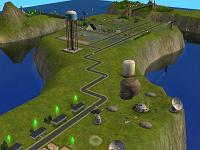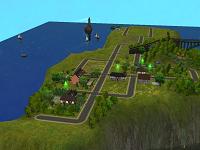 ---
The houses and community lots
Enjoy teaching your sims to fish in the little riverside cottages and let them socialise in the small, non-laggy community lots. Experiment with shared dwellings using lockable doors to keep the families separate. Finish building the army base or try running a foster home for teens. Rescue the Livesey's from abject poverty and save Ellen Green's grandchildren from adoption, or visit the rich part of town and be a business tycoon.













---
The Glades - Buy some prime real estate from local developer Adam Jackman - bound to increase in value rapidly in the current retail development boom thanks to the economic impact of the secret army base. Get in on the ground floor folks!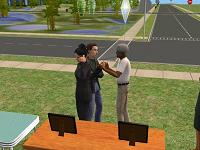 ---
Businesses galore Adam's son George has a much more classy real estate office. He doesn't sell swampland there either. Altogether there are over 20 businesses in Meadow Lawns.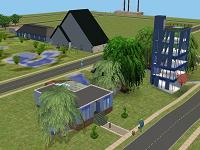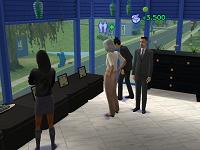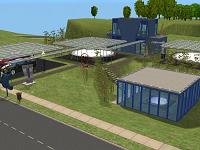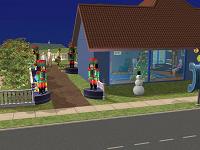 ---
Some of the lots and families can be downloaded elsewhere.
The Army base, foster home and the Green family lots can be downloaded here .
The Willow Walk houses and community lots were built for base game only. You can download them individually from TSR.
Jubilee Gardens are terraced houses designed for multiple occupancy. Download separately or see more here
Updated versions of Aspen, Birch..Fir Cottages included in version 6 are currently on the Exchange here.

---
Meet some of the sims from Meadow Lawns
at work...










at home....





making friends...




in love or in lust...






young and old...






..... it takes all sorts to make a neighbourhood.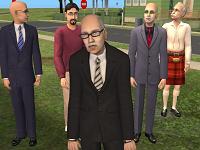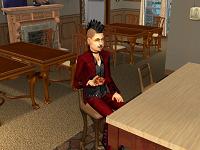 ---
Meadow Lawns is a well-developed neighbourhood with a lot of detail. Overall there are 140 character files and 83 lots including more than 20 businesses. Each family has a story line and many have very detailed story albums. That's why it's a big file. There is no CC apart from the maxis made items from the exchange. Open for Business is required and the Ford Mustang & driveway downloads are recommended if you don't have Nightlife.

Download Meadow Lawns (106MB RAR file) ........Download more pics

---
How to install
Open the RAR file, take out the N010 folder and put it into your Neighborhoods folder. If N010 already exists, don't copy Meadow Lawns over it! Re-number all the files in one of the 'hoods to a new number - it's easy and free with Ant Renamer.
---
Known issues
Aging was turned off on the lot where Cheryl Green lives. Fixed from v.5
The army base is right on the edge of the map. If you can't see it, adjust your neighbourhood camera settings or download Dewshine's replacement file (here). You can also get to the base using clickable neighbours. Visit one of the camp houses and you should be able to see it and click.
I've used the Maxis driveway and Ford Mustang downloads in a few houses. If you don't have Nightlife or the download, the cars and drives should disappear without causing a problem provided you have Pets or above. If OFB is your highest EP and you don't have Nightlife, I suggest you get the download to avoid potential crashes.
Flirt wants have been reported within the Staines family. I don't understand that because they are set as "family" though the relationship is "not defined". I intended them to be half-siblings at best from parents with a trail of broken marriages; they aren't genetically similar.
---
Credits
Map - Loverat's Dinky Downtown from MTS2
Big fancy tudor houses - the exchange I think..
Isabella Monty's house - the add a room challenge on TSR
mildlydisguised - for support and help during development
rsn - fixing the modern house balcony
SimPE - couldn't fix the sims without it
Pescado - for the ffslotdebugger and other hacks that make Sims2 playable
---
Feedback
I'd love to know what you think about Meadow Lawns, so please sign my Simpage guestbook here, post at TSR here, or send me a personal message at TSR, MATY or MTS2.

Happy simming! ......... cwykes
---
last update 21 November 2007 - minor changes to this page and upload of v.6 of Meadow Lawns. Only change from v.5 is updates of 6 empty cottages. Ash, Birch...Fir Cottages now have more varied furnishings. Get them from the exchange if you already have Meadow Lawns and replace them. (v5 fixed the Greens who weren't aging properly and gave Philip's dream house a driveway.)
---